Northern Colorado Prospers 2.0
2022-2026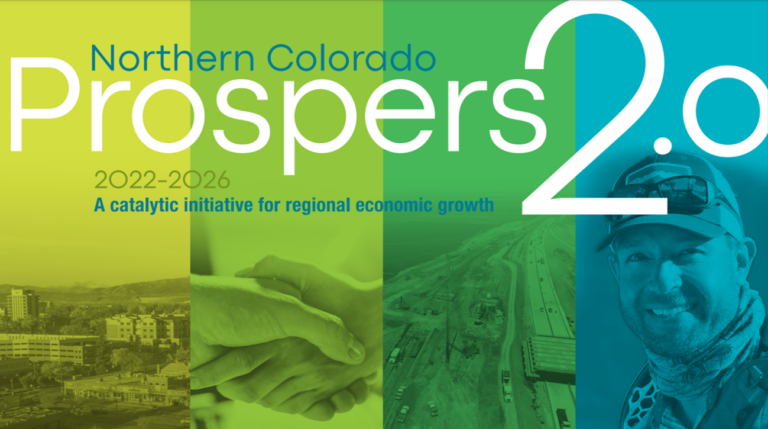 In this new initiative, we continue to pursue our existing goals, while we shift resources to accelerate/REIGNITE businesses and our total economy, take talent attraction and retention to the next level, expand the scope of our transportation goal, and implement a better-resourced, more proactive effort to ensure a business-friendly operating environment.
We will only be successful if all businesses and other stakeholders that have an interest in the economic strength and sustainability of Northern Colorado step forward, engage, and invest in the campaign.   Investing in Northern Colorado Prospers will secure the economic future of our region.
If you are interested in learning more, please contact Ann Hutchison, President & CEO, Fort Collins Area Chamber of Commerce at [email protected] or by calling 970-482-3746. 
Advance Tank and Construction
Advanced Energy
Anheuser-Busch
BizWest Media
Bohemian Companies
Bryan Construction
Canvas Credit Union
Cornerstone Home Lending
DaVinci Sign System
Dellenbach Motors
Dohn Construction
Ed Carroll Motor Co.
EPS Group, Inc.
FirstBank Northern Colorado
Flood and Peterson
Forney Industries
Fort Collins Dodge Chrysler Ram
Fort Collins Jeep
Gregory Electric
Harmony Club
Hartford Homes
Hensel Phelps
Hewlett Packard Enterprise
High Country Beverage
HP Inc.
Independent Financial
Land Title Guarantee
Landmark Homes
Markley Motors, Inc.
Maxey Companies, Inc.
MM Solutions
NAI Affinity
Old Town Media, Inc.
Palmer Properties
RE/MAX Alliance
Saunders Heath
Spradley Barr Automotive
The Group, Inc.
TST, Inc. Consulting Engineers
Adams Bank & Trust
Associates in Family Medicine
Banner Health
BHA Design
BKD CPAs & Advisors
Brinkman Construction
Brinkman Real Estate
Caliber Co
Coan, Payton & Payne
Colorado Iron & Metal
Cushman & Wakefield
Ditesco, LLC
Elder Construction, Inc.
Emergency Physicians of the Rockies
FiberLok Technologies, Inc.
First Western Trust Bank
Galloway & Company, Inc.
Heritage Title Comany
In-Situ, Inc.
Neenan Archistruction
Northern Engineering
OfficeScapes
Outpost Sunsport
Plante Moran
POWER 10 Capital Campaigns
Shirazi Benefits
TB Group
Technical Framework
The Women's Clinic of Northern Colorado
Total Facility Care
Walker Manufacturing Company
Waypoint Bank
Wilbur's Total Beverage
CGRS
Fidelity National Title Company